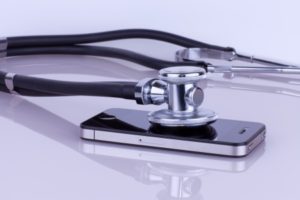 Smartphones have become increasingly popular and nearly ubiquitous in developed regions, since Apple's iPhone was first introduced ten years ago in 2007. Nearly half of the people in the world now have a smartphone and adoption continues to grow each year. As the popularity of these powerful, handheld devices continues to increase, new applications are being developed that hold out promise of smartphones revolutionizing medical care in areas where access remains limited.
Smartphones are turning into versatile diagnostic tools.
Smartphone Diagnostics
Several innovative smartphone diagnostic solutions have recently been developed. These diagnostic solutions are particularly useful in developing regions where access to health care services often remains limited due to shortages of medical providers and infrastructure challenges. Modern medical diagnostics often require expensive laboratories, highly trained lab professionals, and access to reliable electrical power. The use of smartphones for medical diagnostics may soon reduce some of these challenges.
HIV diagnosis and management is one area that has been the focus of recent smartphone diagnostic research. Many of the people who are affected by HIV live in regions with limited access to modern medical care.
Researchers at Brigham and Women's Hospital have been able to develop a CD4 counter for monitoring patients with HIV. The device is able to deliver results that are comparable to those provided by flow cytometry, but quickly and inexpensively.
Researchers at Columbia University's Sia Lab have similarly developed a smartphone dongle that is able to detect syphilis and HIV in pregnant women. The dongle is simple to use and takes only about 15 minutes to deliver the test results.
Future Applications
As smartphones continue to become more powerful, researchers anticipate even more applications will be developed to bring advanced diagnostic screening to regions with limited medical services. It is likely that in the future the adoption of smartphones for diagnostics will increase and additional diseases will be able to be screened using a mobile device.
Challenges
Researchers acknowledge that developing smartphone diagnostics is not without challenges. Technology advances so fast that a diagnostic solution that works well on a smartphone may need to be redesigned or modified to work on newer devices due to changes in the phones. The differences in design and capabilities between smartphone manufacturers also creates challenges for medical diagnostics where a high degree of reliability is required. Finally, regulatory approval for medical diagnostic tools is slow and cumbersome. This creates the risk that smartphone diagnostic technology will be outdated before it receives approval.
EliTechGroup manufactures and distributes diagnostic equipment and reagents to medical facilities around the world. Contact us today to learn more about how our diagnostic products can help your medical facility improve patient care delivery.