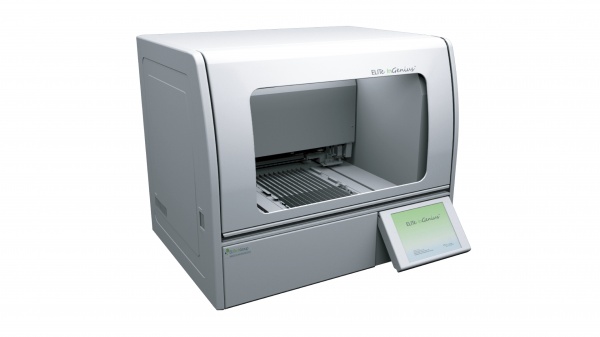 Elite InGenius® is the first CE-IVD fully automated sample-to-result solution, integrating sample preparation, amplification and result analysis, validated with a quantitative transplant pathogen monitoring menu.
The Elite InGenius® is a fully automated Molecular Diagnostics system performing automatically the following tasks: nucleic acid extraction and purification from a large panel of biological specimens, amplification and detection of the nucleic acid extracted by RT-PCR and result analysis.
The ELITe InGenius is a highly flexible solution operating as a closed system in combination with the ELITe MGB® RT-PCR line to offer a unique CE-IVD solution for infectious disease testing AND operating as an open system, compatible with a large range of PCR chemistries.
This unique system can processed from 1 to 12 samples in parallel and independent tracks. It features a universal extraction process in prefilled unitary cartridge associated with multiple and independent PCR from one or several extracted samples enabling the laboratories to develop and custom testing panels according to their specific needs.
Several working modes are available: sample preparation only, RT-PCR amplification only, or sample preparation, amplification and result analysis for qualitative and quantitative applications.
The intuitive and clear graphic user interface piloted with a touch screen guide the user step by step during routine daily works and interfaced with the Laboratory Informatics System (LIS).
Catalogue Number(s)
INT030
Product Description: Elite InGenius® – Sample-to-result instrument with touch screen
INT032SP200
Product Description: Elite InGenius® SP 200 – Pre-filled reagents for universal kit extraction
Number of Tests: 48
INT032CS
Product Description: Elite InGenius® SP 200 Consumable Set – 48 tip cassettes, 48 sonication tubes & caps, 48 elution tubes & caps
Number of Tests: 48
INT035PCR
Product Description: Elite InGenius® PCR Cassette – Aspecific PCR Reaction Cassette & PCR Cap
Number of Tests: 192
F2102-000
Product Description: Elite InGenius® Waste Box – Plastic bag for tip trash
Number of Tests: 20
TF-350-L-R-S
Product Description: Filter tips 300
Number of Tests: 10 x 96
Downloads
Elite InGenius® System is an integrated and ease of use sample to-result solution dedicated to Molecular Diagnostics which integrates extraction, amplification and result interpretation with an unprecedented flexibility and assay menu possibility.
---
Full Automation
Bench-top solution integrating in a single platform all the steps of the molecular diagnostics automated nucleic acid extraction, RT PCR amplification, and result analysis guided step by step by an intuitive touch screen interface.
Bi-directional connectivity enabling the laboratory to automatically query the LIS to import testing information and export patient's results.
Hands-on-time reduced to few minutes
Primary tube loading capability
---
Efficient Performance
High yield of extraction even with low sample volume thanks to patented magnetic beads technology combined with sonication, thermal and chemical sample treatment.
Best-in-class CE-IVD RT-PCR menu based on the MGB technology for qualitative and quantitative applications correlated to W.H.O. International Units.
Unitary cassette-based format to guarantee an high result accuracy and control of the reagent consumption.
Overall time to-result from extraction to result analysis, approximately 2h30 and hands-on-time reduced to less than 2 minutes per sample.
---
Unrivaled Flexibility
1 to 12 samples processed in parallel tracks offering the possibility to virtually mix any kind of samples matrices and to use simultaneously completely diverse thermal profiles and even PCR chemistries within the same run.
Multiple and independent PCR can be performed from one extracted sample enabling the laboratory to define customized and comprehensive panel of tests adapted to each patient needs.
Several operational modes are available: extraction only, amplification only, or extraction, amplification and result analysis with a melt curve analysis capability.
Extracted nucleic acid elution in a dedicated tube allowing multiple PCR testing on demand, additional retesting or archiving.
---
Virtually Unlimited Menu
First sample-to-result solution with a comprehensive menu dedicated to transplant pathogen and broad menu of quantitative applications.
Rapid CE-IVD ELITe MGB RT-PCR menu introduction

CMV ELITe MGB assay
EBV ELITe MGB assay
BKV ELITe MGB assay
HSV1 ELITe MGB assay
HSV2 ELITe MGB assay
Adenovirus ELITe MGB assay
VZV ELITe MGB assay
Parvovirus B19 ELITe MGB assay
MRSA/SA ELITe MGB assay
C. difficile ELITe MGB assay
And much more with the complete ELITe MGB line

Minimum 6plex target capability enhanced with melt curve analysis.
Mixed and matched within the same run CE-IVD assays, laboratory developed assays or other assays of interest simply on demand.
Personalized menu by saving test panel.
Elite InGenius® is a fully automated and highly flexible sample-to-result solution for Molecular Diagnostics.
System Overview
Benchtop instrument with integrated touch screen (100x75x85cm–184 kg)
Throughput: 3000 to 9000 tests per year
Time-to-result: approximately 2h30
---
Specimen
1 to 12 samples per run
Primary tube loading
Validated matrices: whole blood, plasma, serum, CSF, urine, nasal swab, throat swab.
---
Sample Preparation
Sonication capability
Patented bead technology
Extraction reagents: prefilled, unitary cartridge format – ELITe InGenius SP200Sample volume processed: 200µl,
Elution volume: 50µl, 100µl, 200µl
Extracted Nucleic acid storage
---
Amplification
12 independently controlled RT-PCR units
Minimum 6plex target capability enhanced with melt-curve analysis
Amplification reagent: CE-IVD with ELITe MGB line, open capability for a large range of chemistries
Reagent manager area with active cooling – 24 positions
Multiple PCR from one extracted sample
Quantitative results: up to 6 calibrator levels, standards curve storage
RT-PCR volume: 20 µL to 50 µL
Pipetting Range: 5 µl to 300 µL with multi-dispensing capability
Security Features: Specific cassette design, drop catcher, UNG, filter tips, UV treatment, multiple liquid level detection…
---
Data Management
Bidirectional LIS connectivity
Quality control with Levey-Jennings plot
Extremely large range of barcode & QR code accepted for samples & reagents traceability
Remote access for service and diagnostics