ELITechGroup Clinical Chemistry Introduces eLITROL SelectQC™ – A Comprehensive Web-Based IQC Platform for Selectra System Users
ELITechGroup Clinical Chemistry is proud to announce the launch of eLITROL SelectQC™, a new web-based internal quality control (IQC) platform designed for all Selectra System users in clinical chemistry laboratories. The platform offers comprehensive real-time access to peer IQC data, providing confidence in laboratory performance and troubleshooting.
eLITROL SelectQC allows laboratories to monitor, maintain, and improve analytical quality based on individual laboratory performance specifications. The platform provides real-time access to peer data for faster identification of IQC outlier sources.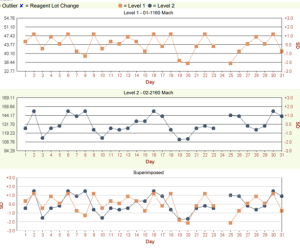 Reports with meaningful peer data, including laboratory-specific Levy-Jennings charts , test system and method principle peer group reports, test-by-test listing of statistics, exceptions reports, monthly summary reports, and Youden plots are readily available. In addition, monitoring six sigma performance, using laboratory defined Total Error limits, is now within the realm of all Selectra System users.
By joining eLITROL SelectQC, Selectra System users can benchmark their laboratory's performance against other laboratories and identify opportunities for improvement without investing in software for statistical and data reduction packages.
To join eLITROL SelectQC, Selectra users can register via the website or contact their local representative. Confidence through worldwide peer IQC data.