MRSA/SA ELITe MGB® Kit
Methicillin-resistant Staphylococcus aureus (MRSA) and Staphylococcus aureus (SA) bacteria are major causes of nosocomial infections associated with higher morbidity and significant hospital costs. Rapid and reliable detection of MRSA and SA with molecular methods is important for pre-surgical screening, identification of colonised patients and better control infections in healthcare settings. MRSA/SA ELITe MGB® Kit is a triplex PCR assay designed for the detection and differentiation of Staphylococcus aureus and Methicillin-resistant Staphylococcus aureus DNAs, based on a unique patented design. The assay is CE-IVD validated on different sample matrices in combination with ELITe InGenius®, a fully automated sample-to-result solution.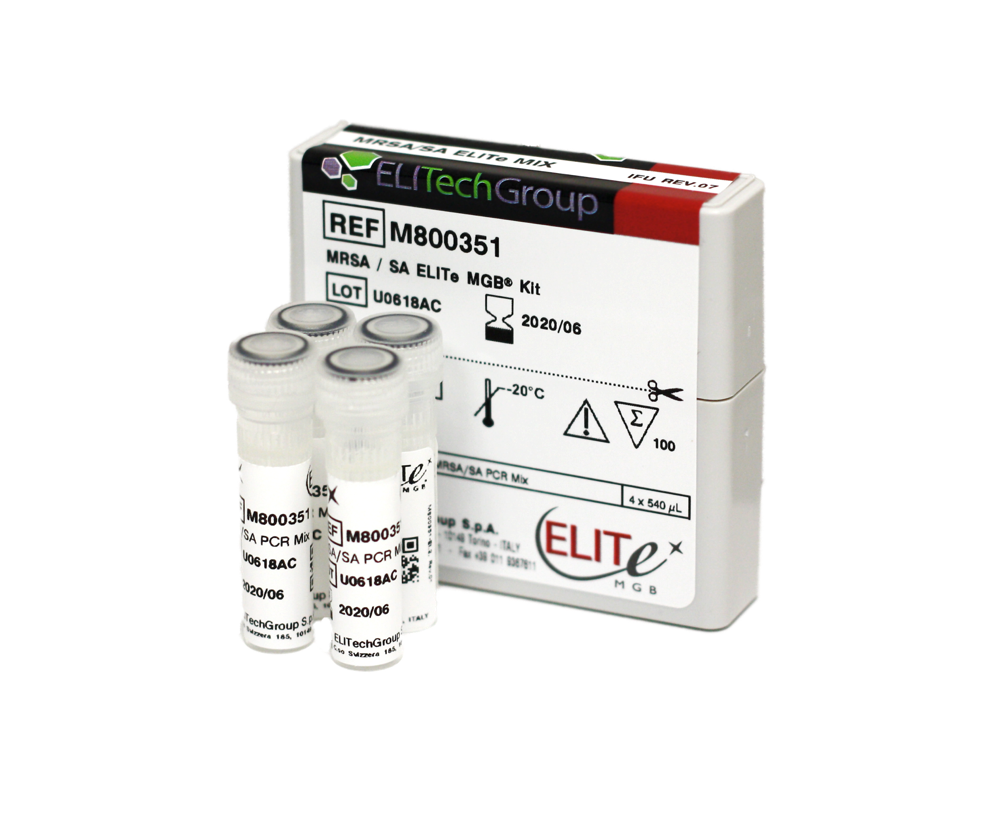 Benefits
Conserved targets

MRSA: regions of mecA

and

mecC

specific genes

SA: regions of Staphylococcus aureus

specific gene

Internal Control: artificial DNA sequence

Easy-to-use

Monoreagent, ready to use

Best-in class PCR technology

ELITe MGB probes designed with Minor Groove Binder, Superbases® and Eclipse® Dark Quencher

Samples

Nasal swabs and blood culture

Integrated workflow

Fully automated process for extraction, amplification and result analysis with ELITe InGenius

High performance

MRSA: 98.3% clinical sensitivity and 100% clinical specificity
SA: 93.3% clinical sensitivity and 100% clinical specificity

Eluate storage

Additional testing including multiple PCR from the same eluate, retesting or archiving

Minimal hands-on time

Less than 2 minutes per sample from extraction to result analysis

Complete HAI menu

ESBL ELITe MGB® Kit, CRE ELITe MGB® Kit, C. difficile ELITe MGB® Kit and Colistin-R ELITe MGB® Kit
"
Let us help you
For general inquiries, please use the links to the right. Click Contact to complete a brief online form, or click Support for general phone and email information. Someone will be in touch with you soon.