ELITe InGenius®
ELITe InGenius® is an easy-to-use sample-to-result solution dedicated to Molecular Diagnostics which integrates extraction, amplification and result interpretation with an unprecedented flexibility and assay menu possibility. ELITe InGenius® processes 1 to 12 samples in parallel and independent tracks. It features a universal extraction process with multiple and independent PCR enabling the laboratories to create and run custom panels of assays on demand. ELITe InGenius® offers laboratories an unlimited menu capability, combining the largest CE-IVD infectious disease menu available on a sample-to-result instrument, with a real open capability.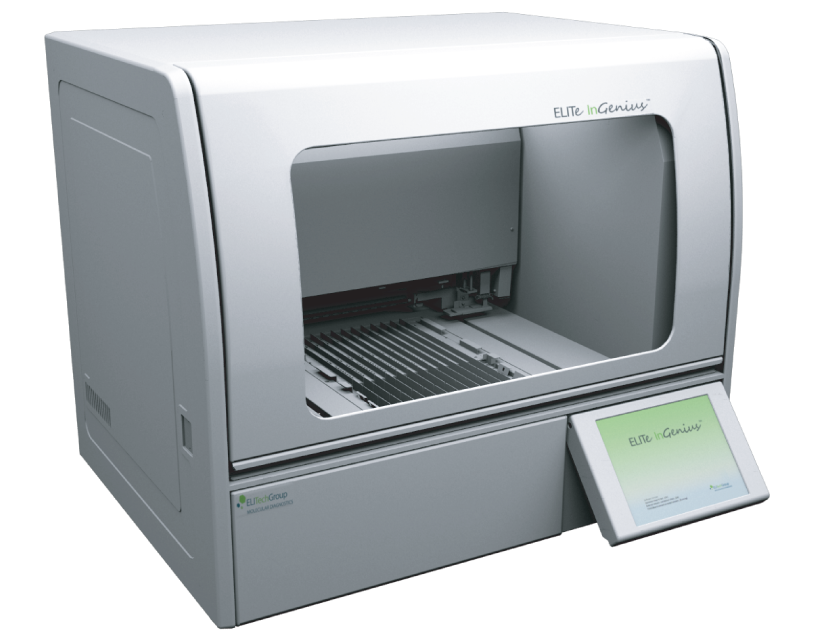 Benefits
Full Automation

Bench-top instrument integrating all the steps of molecular diagnostics: automated nucleic acid extraction, real-time PCR amplification, and result analysis
Primary tube loading capability
Hands-on- time reduced to few minutes
Bi-directional connectivity to the LIS

Efficient Performance

High yield of extraction even with low sample volume
Patented magnetic beads technology combined with sonication, thermal and chemical sample treatment
Best-in-class CE-IVD real-time PCR menu based on the MGB technology
Qualitative and quantitative applications
Unitary cassette-based format
Overall time-to-result: c. 2h30
Hands-on time reduced to less than 2 minutes per sample

Unrivaled Flexibility

1 to 12 samples processed in parallel tracks
Possibility to mix any kind of sample matrices within the same run
Multiple and independent PCR performed from one extracted sample, enabling the laboratory to define a customized and comprehensive panel of tests adapted to each patient's need
Several operational modes available: extraction only, amplification only, or extraction, amplification and result analysis
Extracted nucleic acid elution storage allowing multiple PCR testing, additional retesting or archiving

Virtually Unlimited Menu

Complete CE-IVD real-time PCR menu:

Transplant Pathogen Monitoring
Healthcare Associated Infections
Antibiotic Resistance Testing
Sexually Transmitted Diseases
Respiratory Infections
Meningitis
Gastro-Intestinal Infections
Genetics

First sample-to-result solution with a comprehensive quantitative transplant pathogen monitoring menu including: CMV, EBV, HSV1, HSV2, BKV, JCV, Parvovirus B19, HHV6, HHV8, and many more
Real open capability
6plex target capability enhanced with melt curve analysis
Personalized menu by saving test panel
Let us help you
For general inquiries, please use the links to the right. Click Contact to complete a brief online form, or click Support for general phone and email information. Someone will be in touch with you soon.