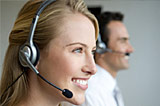 A quality customer and technical support experience requires commitment and consistent effort from everyone. ELITechGroup ensures a serious commitment from every employee in the organization and from our distributor partners to deliver service excellence and exceed customers' expectations.
We measure our effectiveness against key metrics with an objective to continually raise the bar and improve. Examples of service metrics include:
• Availability
• Repair quality / sependability
• Word-of-mouth promoter
Coupled with ELITechGroup commitment to service, we strive to listen to our customers and act with an appropriate sense of urgency. Commitment, listening and acting with a sense of urgency is the foundation of how we deliver service excellence.
SERVICE (Clinical Systems Division only)
Service & Support is offered through our local distributor. All distributors are extensively trained and licensed by service department at ELITechGroup Clinical Systems B.V.
Only factory parts obtained from our company are authorized in servicing our products. We maintain a substantial inventory of parts to assure your needs.
If you are an end-user requiring support, please contact your local distributor.
To access our helpdesk, please contact our hotline: