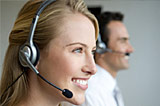 A quality customer and technical support experience requires commitment and consistent effort from everyone. ELITechGroup ensures a serious commitment from every employee in the organization and from our distributor partners to deliver service excellence and exceed customers' expectations.
Customer Service
ELITechGroup's Customer Service group is committed to delivering prompt, professional assistance for all your ordering needs and nontechnical support.  Contact us when you have inquiries or need help with any of the following:
Order Processing & Billing
Order Status, Tracking, and Delivery Inquiries
Item Numbers
General Inquiries
Contact Information:
ELITechGroup, Inc.
370 West 1700 South, Logan UT  84321
Phone:  1 800 453 2725       Fax: 1 435 752 4127
Email: custserv@elitechgroup.com
Hours of Operation:  Monday – Friday, 6:30 am – 5 :00 pm (MT)
Technical Assistance
ELITechGroup Inc.—Clinical Chemistry Systems and Excyte Products
27 Wellington Road, Lincoln, RI 02865  USA
Phone:  1 401 642 8400 or 1 855 ELITECH (toll free)
Fax:  1 401 642 9001 or 1 800 655 3526 (toll free)
Email – Technical Support:  customercare@elitechgroup.com
Hours of Operation:  Monday – Friday, 8:30 am – 8:00 pm ET (excludes company holidays)
ELITechGroup Molecular Diagnostics
21720 23rd Drive SE, Suite 150, Bothell, WA  USA
Phone:  1 800 453 2725
Email – Technical Support:  mdx@elitechgroup.com
Hours of Operation:  Monday – Friday, 8:00 am – 5:00 pm PT (excludes company holidays)