ELITe InGenius®
FDA-cleared
The ELITe InGenius system is an automated sample-to-result PCR solution for molecular testing, featuring:
Open and closed modes
Onboard RNA and DNA extraction and real-time PCR amplification
Up to 12 independently controlled PCRs
12 samples per run
2.5 hour turnaround time
Up to 36 sample results in an 8-hour shift
6 optical channels for single or multiplex testing
Benchtop instrument system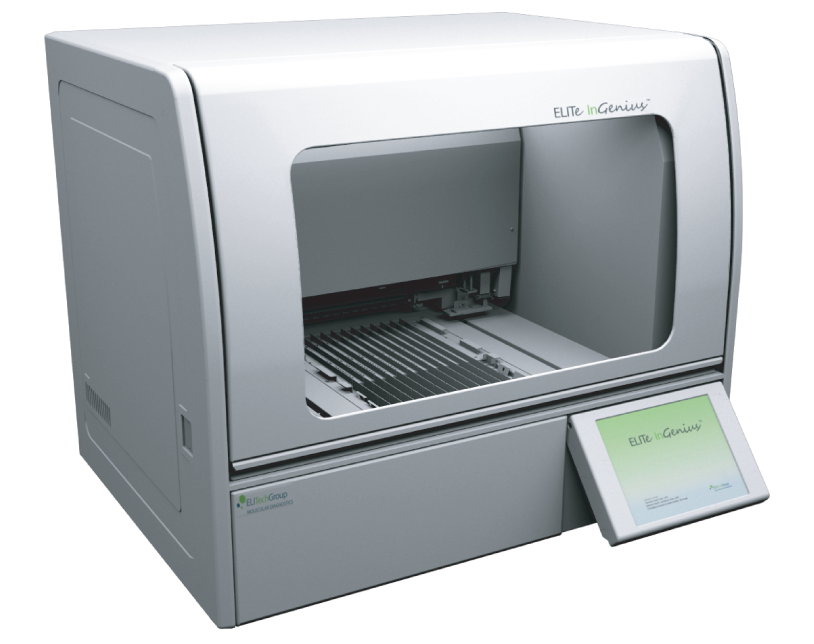 | | |
| --- | --- |
| Catalog number | Product name |
| INT030 | ELITe InGenius® |
Benefits
The ELITe InGenius offers:
Full automation. Up to 2.5 hours of walkaway time per run, due to automated onboard nucleic acid extraction, quantitative and qualitative PCR, and bi-directional LIS connectivity and results interpretation
Efficient performance. Universal extraction of DNA and RNA combined with multiple independently controlled PCRs enable excellent workflows
Wide flexibility. Open and closed modes, DNA and RNA onboard extraction, primary and secondary tube loading, quantitative and qualitative testing, 6 optical channels, melt curve capable
Unlimited menu. Open reagent cartridges, programmable assay parameters, and 6-plex detection enable a creative menu of custom multiplex assays.
Visit egmdx.com to learn more. We offer a full menu of IVD tests, analyte specific reagents (ASRs), and research use only (RUO) materials designed with proprietary chemistries.
MGB probes | DSQ probes | Eclipse Dark Quencher | Duplex Stabilizing Quencher | Pleiades probe chemistry | AquaPhluor® Dyes | Superbases
Let us help you
For general inquiries, please use the links to the right. Click Contact to complete a brief online form, or click Support for general phone and email information. Someone will be in touch with you soon.