Market Segment: Clinical Chemistry, Osmometry
The fundamental advantages of vapor pressure osmometry are now embodied in the most intelligent osmometer ever produced!
START WITH THE BEST! The Vapro Vapor Pressure Osmometer brings unprecedented simplicity, convenience, and accuracy to the routine determination of osmolality to help meet the demands placed on today's clinical and research laboratory.
Auto-calibration, a self-cleaning thermocouple, self-diagnostics, statistical analysis, and computer interface/printout capabilities make the Vapro, osmometer a must for any busy laboratory. The small sample requirement allows you to assay hard-to-get or expensive samples using the superior characteristics of the vapor pressure method.
Catalogue Number(s)
Model 5600
Product Description: Vapro®Vapor Pressure Osmometer
Downloads
The Vapro® Vapor Pressure Osmometer, can be used to determine the osmolality in any type of sample: fluids, viscous, and even tissue, giving the Vapro great versatility in clinical med
icine or biomedical research applications. The Vapro osmometer requires a sample volume of only 10 microliters. Osmolality is displayed in 90 seconds.
The fundamental advantages of Vapro have been enhanced with automatic thermocouple cleaning and mechanized sample slide operations, making osmolality measurements with the Vapro the easiest and most user-friendly available. The Vapro programming includes robust self-diagnostics for complete monitoring of osmometer functions.
The Vapro includes computer and printer interface capability. To record more detailed information, or to capture the results in a computer, Vapro Lab Report software for Windows operating systems combines user-provided information with measurement results directly from the Vapro to produce a printable, savable report.
---
Why Vapor Pressure?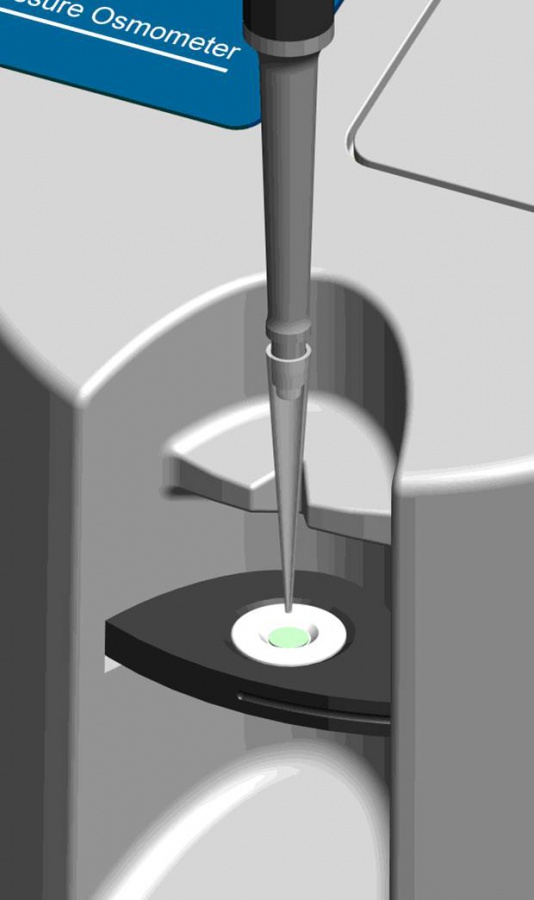 Vapor pressure measurement is the best method of determining osmolality, and the thermodynamic limitations of vapor pressure osmometry are least restrictive. For these reasons, vapor pressure osmometry is superior for most fluids in biology and medicine in which water is the solvent.
The vapor pressure method determines osmolality at room temperature with the sample in natural equilibrium. This precludes cryoscopic artifacts due to high viscosity, suspended particles, or other conditions that can interfere with freezing point determinations, giving Vapro a much broader range of error-free applications.
---
Menu Driven
Functions are selected from a simple and logical menu.
Streamlined user interface for quick access to menu items.
User-Selectable Measurement Modes: Single sample; Auto Repeat Mode; Averaging Mode for precision measurements; Delayed Start Mode for samples requiring longer equilibration times.
User-selectable languages (English, French, German, Spanish).
---
Superb Accuracy
Unsurpassed by any other method, error is less than 1% in the clinical range.
---
Self-Cleaning
Self-cleaning thermocouple reduces maintenance and improves performance.
---
Easy Calibration
A push of a button automatically sets the calibration parameters.
---
Economical
 Low initial cost, economical proprietary supplies.
---
Vapro Lab Report Software
Combines user-provided information with measurement results directly from the Vapro to produce a printable and savable report (Windows format only).
---
Trouble-Free Self-Diagnostic Operation
Few moving parts, no mechanical adjustments, no mechanical breakdowns.
Automated circular sample slide and chamber locking operation, which places all the controls  on the front panel.
Built in clock records and displays a date code for each sample result.
Sample Volume  
10 mL nominal (Other accessory sample volumes: 2 mL using AC-063, 20 mL using AC-064 sample holder, and approximately 60 mL using AC-065 sample holder.)
Measurement Range
Typically 20 to 3200 mmol/kg* (up to 3600 mmol/kg with extended range osmometer) @ 25 °C ambient.
Measurement Time
Resolution
Repeatability
2 mmol/kg Standard Deviation.
Linearity
2% of reading from 100 to 2000 mmol/kg.
5% of reading over total range.
Calibration
Automatic using Opti-Mole osmolality standards.
Readout
240 x 128 pixel backlit LCD.
Operating Temperature
This device has been designed for indoor use only between 15 and 37 °C with a maximum relative humidity of 85%. For use at altitudes up to 2000 meters. (Instrument should be at stable temperature before calibrating.)
Storage Temperature
Serial Outputs
RS-232 (ASCII format).

Data Protocol: 9600 Baud, 1 Start Bit, 8 Data Bits, No Parity, 1 Stop Bit.
9-Pin Sub-D Connector:

USB – Device.

Type-B Receptacle.
Data Protocol: 115200 Baud, 1 Start Bit, 8 Data Bits, No Parity, 1 Stop Bit.
Line Voltage
100 to 240 Volts AC @ 50-60 Hz. Transient.
Power  
Fuses
(2 required) 5 x 20 mm time-delay type T – 1 ampere at 250 volts. Manufactured by Littlefuse Part # 218001 or Bussman Part # GDC-1A.
Size (H x W x D)
20 cm (8") x 28 cm (11") x 36 cm (14").
Weight
*mmol/kg is the Standard International (Sl) unit of osmolality.
Emergency Room
Burn patients
Trauma, head injury, and shock
Coma
Diabetic coma
---
Prognosis
Serum osmolality and osmolal discriminant
Renal function
---
Monitoring
Stool analysis
Body fluids
Surgery
ADH therapy
Renal dialysis
Post operative
Burn therapy
Insulin therapy
Fetal maturity
Hyper/hyponatremia
I.V. therapy
---
Diagnosis
Cystic Fibrosis diagnosis by osmolality assay of sweat
Differential diagnosis of diabetes insipidus
Differential diagnosis of polyuria or oliguria
---
Quality Assurance
Blood bank assessment of residual glycerol in final cell suspensions
Enteral & parenteral nutrition preparations
Physiological infusion solutions
Monitoring infant formulas
Reagent and standard solutions
Toxicology
Pharmaceutical manufacturing and research
Cell biology
---
Research Applications
Vapro is the undisputed leader in research osmometry, with capability for any type of sample–fluids, viscous or tissue samples.
Veterinary medicine
Botany
Plant physiology
Electron microscopy
Genetic research
Food and beverage processing
Pharmacology
Marine biology
Cancer research
Molecular weight determinations (0-10,000 g/mol)
Tissue culture
Ophthalmology
Transplantation and embryology
Chemical industry
Soil physics
Agriculture