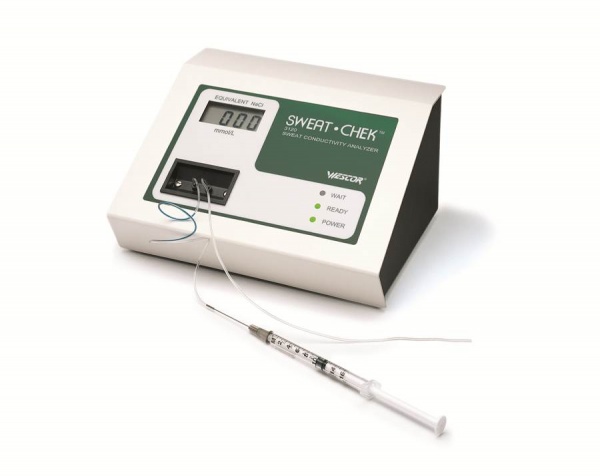 The sooner you get diagnosed with cystic fibrosis, the sooner you can start treatment to improve your quality of life and your lifespan. Known globally as the leader in a laboratory diagnosis of cystic fibrosis, ELITechGroup Biomedical Systems proudly offers several products to help with early diagnosing of the progressive, genetic disease. This diagnostic approach is called "sweat testing" and can be done on people of all ages. Sweat testing is one of the top tried and tested ways for physicians to confirm a cystic fibrosis laboratory diagnosis. Providers are able to compare the test results, which are clear-cut and quantitative, with clinical observations. Nearly 29,000 people are living with cystic fibrosis in the U.S. with about 850 new individuals diagnosed each year. With hundreds of new diagnoses annually, sweat testing is critical in the fight against cystic fibrosis and the products of ELITechGroup Biomedical Systems play a vital role.
Macroduct® Sweat Collection System
Through combining the Webster Sweat Inducer and the Macroduct Sweat Collector, the system has become the standardized way to diagnosis cystic fibrosis in a laboratory. Not only does the sweat test provide accurate results but it's also one of the simplest systems available.
Nanoduct® Neonatal Sweat Analysis System
This completely integrated and miniaturized system allows for even earlier detection of cystic fibrosis. Empowered by this system, physicians are able to make a laboratory diagnosis of cystic fibrosis of newborns just days old.
Chloro-Chek® Chloridometer
To analyze sweat chloride in the diagnosis process, this easy-to-use chloride titration analyzer pairs with the Macroduct Sweat Collection System to provide results in just 20 seconds or less.
Sweat-Chek™ Analyzer
Designed to pair with the Macroduct Sweat Collection System, the total electrolyte analyzer is using the Wescor method for sweat analysis. This analyzer uses sweat conductivity versus the other method of using sweat chloride or sweat sodium ion assay. For more information about sweat testing and other in vitro diagnostic equipment needs, visit EliTech Group."