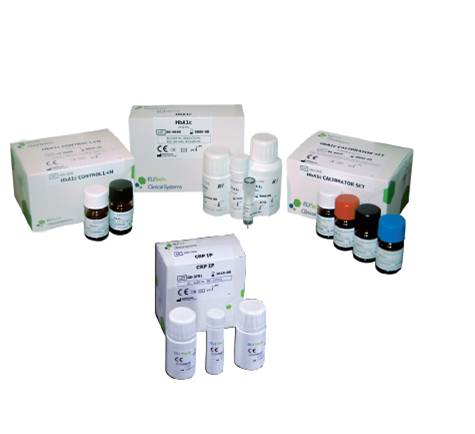 Market Segment: Open Chemistry Reagents, Clinical Chemistry
Stable-liquid and ready-to-use
ELITechGroup Clinical Systems features a comprehensive menu of ready-to-use, liquid-stable reagents. Over 100 available assays with flexible reagent packaging and methods referenced to industry standards. ELITech is committed to ongoing development of new methods to provide a growing line of superior chemistry test menu.
Applications are available for a variety of automated analyzers.
Enzymes
Alanine Aminotransferase (ALT/GPT)
Alkaline Phosphatase (ALP)
Amylase
Aspartate Aminotransferase (AST/GOT)
Creatine Kinase – MB (CK-MB)
Creatine Kinase (CKNAC)
γ – Glutamyltransferase (γ-GT)
Lactate Dehydrogenase (LDH)
Cholinesterase
Substrates
Albumin
Bilirubin Direct
Bilirubin Total
Bilirubin Direct & Total
Cholesterol
Cholesterol HDL
Cholesterol HDL Direct
Cholesterol LDL Direct
Creatinine
Lactate
Glucose
Hemoglobin
Protein Total (Serum)
Protein Total (Urine)
Triglycerides
Urea
Uric Acid
Specific proteins
C-reactive Protein (CRP IP)
Haptoglobin
Glycosylated Hemoglobin (HbA1c)
Immunoglobin A (IgA IP)
Immunoglobin G (IgG IP)
Immunoglobin M (IgM IP)
Microalbumin
Orosomucoid
Prealbumin
Transferrin
Electrolytes and Ion Selective Electrodes (ISE)
Calcium
Chloride
Iron
Magnesium
Phosphorus
Carbon Dioxide (ISE)
Chloride (ISE)
Potassium (ISE)
Sodium (ISE)
Downloads