Market Segment: Sweat Testing, Cystic Fibrosis
New FDA-cleared Macroduct® Advanced Sweat Collection System
Features of the new Macroduct Advanced include a touch screen user interface with built in step-by-step graphic controlled instructions that further standardize pilocarpine iontophoresis and sweat collection for optimum results.  In addition, the revised shape of electrodes and Macroduct collector offer greater convenience when working with neonates and toddlers with small limbs.  This system truly is sweat testing at its best while enhancing laboratory workflow in meeting protocols and traceability requirements with flexible options for data management.
Available in all countries.
Downloads
SWEAT INDUCER
The Macroduct Advanced sweat inducer incorporates a friendly, straightforward touch-screen user interface. it provides a stepby-step visual guide of all aspects of sweat induction and collection, further enhancing the standardization of the sweat test. This assures proper procedures are followed. An integrated timer conveniently monitors the 30-minute collection time, and exportable test data helps verify correct performance of the tests.
The carefully validated functional performance of the Macroduct Advanced sweat inducer is the same as the standard Macroduct system. it delivers 1.5 milliamps of current for 5 minutes, using the same pilocarpine concentration in the Macroduct Advanced pilogel discs and the
same collection area in the Macroduct Advanced elliptical collectors. Therefore, the minimum amount of sweat needed is still 15 microliters of sweat in a 30-minute collection period.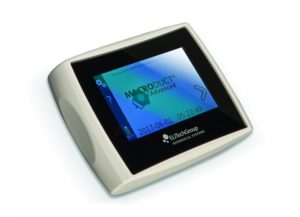 ELECTRODES
The Macroduct Advanced electrodes detect the absence of pilogel discs and will not start iontophoresis without pilogel discs inserted between the skin and electrodes.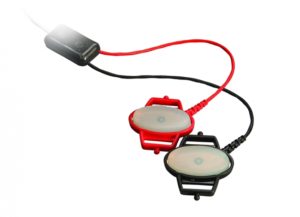 ELLIPTICAL COLLECTOR
Elitech continues to move sweat testing forward with a patented elliptical Macroduct Advanced collector. The new collector incorporates an elliptical design with straps that are easy to adjust and better fit small arms for optimized sweat collection. The new Macroduct Advanced straps can be disinfected easily, but are priced so they can be disposed of, if desired.
The ability to determine sufficient sweat rate has been greatly improved by the addition of visual indicators on the Macroduct Advanced sweat collector tubing.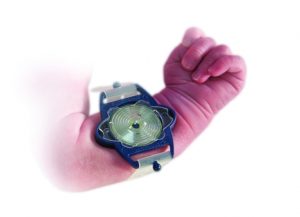 EASYDUCT™ NEEDLE
The new EasyDuct reduced-end reusable stainless steel needle – answers customer requests for an easier method to attach the needle to the Macroduct tubing.

ANALYSIS
The pristine sweat harvested from the Macroduct Advanced elliptical collector can be analyzed using the ChloroChek® Chloridometer® for chloride analysis, or the Sweat-Chek™ sweat conductivity analyzer for total electrolyte concentration.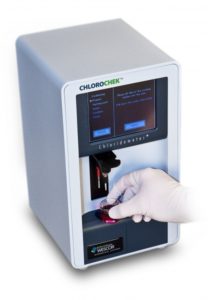 Macroduct Advanced Model 3710 - Specifications
Iontophoresis Current
(nominal control)
(a) Current profile-controlled ramp-up and ramp-down
(b) 1.5 mA
(c) Fail-safe current limited by circuit design
Electrode Cable Assembly
Color-coded elliptically shaped electrodes to fit elliptical Pilogel discs
USB Connection
Micro USB connector for exporting test data
Power
Rechargeable lithium ion battery
Device & Carrying Case Weight
5 lbs (2.3 kg)
Macroduct Advanced Sweat Collection System Model 3710 includes all needed accessories and one supply kit. Each kit contains 12 Macroduct Advanced Pilogel discs, 6 Macroduct Advanced collectors, and 6 small sealable containers. Order catalog SS-268