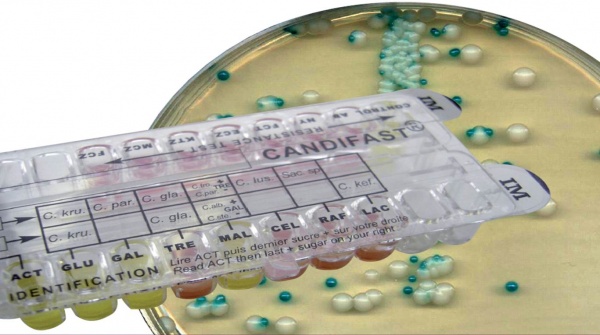 Market Segment: Mycology, ID/AST solutions, Microbiology
Antifungal resistance testing of yeasts responsible for superficial mycosis.
CANDIFAST® ES Twin enables resistance testing of the main human pathogenic yeasts to various antifungal agents used in the treatment of superficial mycosis.
Multiple species identified
Cost-effective, routine laboratory test
High sensitivity and specificity
Accurate results from isolated colonies usually available in 24 hours
Simple colorimetric reaction, without expert interpretation
This test is identical to the resistance test row of the CANDIFAST® tray (2-in-1 product).
Catalogue Number(s)
44130
Product Description: CANDIFAST® ES TWIN (30)
Number of Tests: 30
Downloads
Intended use
The frequency of fungal infections and in particular those associated with yeasts have increased considerably over the last ten years. The identification of the species, whether as a single agent or of different types, present in a clinical specimen has become indispensable for determining the correct therapeutic option.
The CANDIFAST® ES Twin kit enables resistance testing of yeasts to various antifungal agents. The two rows of wells are identical to the resistance test row of the CANDIFAST® tray.
---
Principle
The CANDIFAST® ES Twin kit is an antifungal resistant test adapted to the treatment of superficial mycosis:  Amphotericine B, Nystatine, Flucytosine, Econazole, Ketoconazole, Miconazole, Fluconazole.
The test is performed using colonies which should be young (24 to 48 hours old) and perfectly isolated on an agar medium in a Petri dish.
All the necessary reagents are contained in the 20-well tray (1 test/tray) and no additional reagent is required to perform the test.
---
Simple protocol
Pick up an isolated colony then inoculate a vial of Reagent 1 with the colony.
Standardize the inoculum with respect to the Turbidity Control Vial.
Inoculate reagent R2 with 100 μL of inoculated standardized reagent R1.
Dispense into each of the first 8 wells: 100 μL of inoculated Reagent 2 + add 2 drops of paraffin oil.
---
Easy-to-read and easy-to-interpret results
Results are visualized by a simple spontaneous colorimetric reaction, without instrument or expert interpretation.
Reagents and Material
CANDIFAST® ES Twin Trays:
2×10-well tray individually packed in an aluminum sachet.
Each tray allows the testing of two samples.
Quantity: 15
R1:
Vials of buffered agar medium for dilution and identification
Quantity: 35
R2:
Vials of YNB (yeast nitrogen base) medium containing urea and for resistance testing, phenol red.
Quantity: 30
TC:
Vial of barium sulphate solution for the control of inoculum standardization vial of barium
Quantity: 1
Stability and Storage
The kit and its contents when stored at 2-8 °C in their original state are stable until the expiry date indicated on the box.
Half of a CANDIFAST® ES Twin may be stored at 2 to 8 °C for 7 days, in its original packaging, resealed with the desiccant.
Performance
The evaluation of the performance characteristics was performed on different yeasts:
from collection strains
Resistance test:

The parallel comparative study was carried out with the Biorad FUNGITEST and the Biomérieux ATB Fungus trays.

The overall  agreement was 87.4%
from clinical strains
Resistance test:

The parallel comparative study was carried out with the Biorad FUNGITEST and the Biomérieux ATB Fungus trays.

The overall  agreement was 98.5%
Material required but not provided
  Paraffin oil
  Sterile pipettes
  Incubator at 37 °C
  Container for contaminated waste