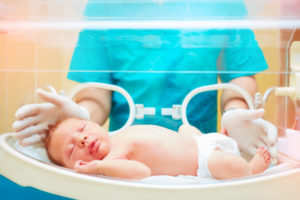 Bronchopulmonary Dysplasia is a serious condition that may affect infants who are born prematurely.
This condition has historically been difficult to treat effectively, but now an innovative treatment being pioneered in Vietnam is showing promise.
Infants who are born prematurely have too few alveoli in their lungs, and those that have formed are not fully developed. The result is that premature infants often require oxygen therapy or ventilation to survive. While this treatment is lifesaving and necessary, it also carries the risk of further damaging an infant's lungs. Alveoli may become fibrotic, and pulmonary hypertension may also develop due to damage to the blood vessels surrounding the alveoli. This condition is known as Bronchopulmonary Dysplasia.
Traditional treatments for Bronchopulmonary Dysplasia are sometimes ineffective for infants suffering from this condition. A team of scientists at Vinmec Medical System in Hanoi, led by Prof. Nguyen Thanh Liem, encountered one such infant in 2016. This infant had been born prematurely at 30 weeks, and subsequently developed Bronchopulmonary Dysplasia. With the child facing a high risk of death due to its disease, the scientists attempted a stem cell transplant. Bone marrow mononuclear cells were transplanted into the infant via intravenous and endotracheal routes. The stem cell transplant was successful with noticeable improvement within one month after the treatment. The baby is now nearly two years old and is thriving.
The team at Vinmec Medical System has since performed stem cell transplants on two additional neonatal infants who had developed Bronchopulmonary Dysplasia. The Medical System is also performing stem cell transplants on patients with cerebral palsy, and is treating patients with diabetes, autism, cirrhosis, knee degeneration, spinal cord injury, and other complex medical conditions with stem cell treatments.
As healthcare diagnosis and treatment options continue to advance, EliTech Group is committed to advancing clinical diagnostics to laboratories in the proximity market. Our network of manufacturers and distributors deliver in vitro diagnostic equipment and reagents to laboratories closer to the patient. Contact us to learn more or to request a quote for your medical facility.